Private, Escorted, Vintage 4x4 Camping Adventure In Outback Western Australia!
Date:
Dates & itineraries to suit you!
Cost:
FROM $2500 for two people (3 day/2 night camping experience - all inclusive (excluding alcoholic beverages)
Looking for an exciting, back-to-nature, 4x4 camping experience in the Aussie Outback?
Join Global Gypsies Tours on a private, fully escorted, catered, fun and educational VINTAGE 4WD OUTBACK CAMPING ADVENTURE in WA! Follow our recommended itineraries or we can arrange a customised adventure specially for you on dates to suit. Minimum 3 days/maximum 14 days. What a great way to kick the COVID blues & start travelling again!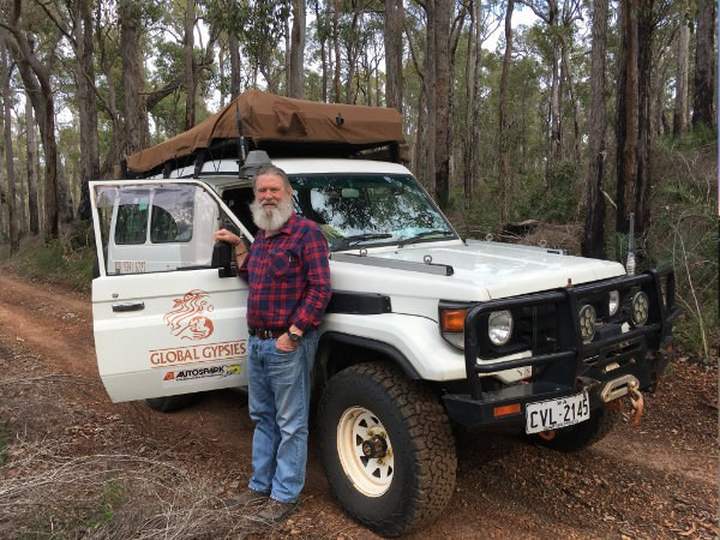 Travel with award-winning guide Jeremy Perks & his partner, Jan Barrie, in our trusty Landcruiser - ONLY TWO PASSENGERS ALLOWED! - on this authentic, private, Aussie outdoor adventure reminiscent of the exploration tours of pioneer days. Enjoy such exciting experiences as 4WD adventures, camping (all equipment provided), bush cooking, cultural activities, wildlife viewing, stargazing, visits to scenic attractions and more. This unique guided, catered, nature-based eco itinerary begins and ends in Perth - one of the safest, cleanest and most remote capital cities in the world. Spend a day or two discovering the sites, then 'head out bush' with us for a genuine Aussie adventure!
Contact us today to arrange your private PRIVATE, ESCORTED, VINTAGE AUSSIE 4x4 CAMPING ADVENTURE. But please give us plenty of notice - we're usually out in the bush! Prices start at $2500 for two people (3 day/2 night camping experience - all inclusive (except for alcoholic beverages).
Other Notes:
Prices of "tag-along-tours" are based on clients driving their own 4WD vehicle - hire 4WD vehicles can be arranged at special rates. Prices do not include air fare, hotel accommodation, hire vehicles, food, fuel, alcoholic beverages, or expenses of a personal nature. Please refer to Terms & Conditions before booking any Global Gypsies safari. Travel insurance is recommended on all tours.
Disclaimer:
A safari operated or coordinated by Global Gypsies or its agents or affiliates is a challenging adventure frequently operating in remote areas. While every care and precaution is taken, the company and its affiliates and agents are not liable for the sickness or injury of any participant or for any medical services that may be required. Participants recognise that 'tag-along-tours' are self-drive, self-sufficient overland experiences and Global Gypsies and its agents and affiliates do not accept responsibility for any vehicle damage or recovery. A non-refundable 10% deposit is required to confirm your place. Any legal conflict which may arise shall be resolved in the legal jurisdiction of WA in accordance with those laws. Please request a copy of our full Terms & Conditions before booking your safari. Travel insurance is recommended for all tours. Prices quoted are in Australian Dollars. The company does not book or sell airfares.