Kimberley Explorer 2022
Cost:
$4900/vehicle (1 - 2 people)
18 days/17 nights, self-catering, self-drive, 4WD tag-along-tour. Broome to Broome - approximately 2895 kms in total
Sorry! This tour is fully booked! Add your name to the wait list now!
Explore one of the most scenic and rugged parts of Australia – the spectacular Kimberley region - with Global Gypsies!
We'll be visiting all the top spots including Middle Lagoon, Kooljaman (Cape Leveque), Bells Gorge, Manning Gorge, Gibb River Road, Home Valley, Kununurra, Lake Argyle, the Bungle Bungles (Purnululu), Geikie Gorge, Windjana Gorge, Tunnel Creek and more. It's the perfect opportunity to discover the wonderful Kimberley region - independent but not alone!
This thrilling, escorted, self-drive, self-catering adventure covers almost 3000 kms and begins and ends in Broome. Be sure to allow yourself one or two days before or after the tour to enjoy the many attractions this tropical paradise has to offer – but be sure to book your accommodation or campsites well in advance!
While there, visit Cable Beach, take a camel ride at sunset, book a joy flight to Horizontal Falls or other destinations, go on a fishing trip, visit the Prison Tree, stroll through Chinatown, visit a pearl lugger, browse through the Broome Historical Society Museum, drive out to the Broome Bird Observatory, purchase some pearl jewellery, visit the famous outdoor theatre, enjoy an astronomical experience with our friend Greg Quicke (Professor Brian Cox's co-presenter), go to the Malcolm Douglas Wildlife Park or just relax and soak up the laid-back Broome vibes.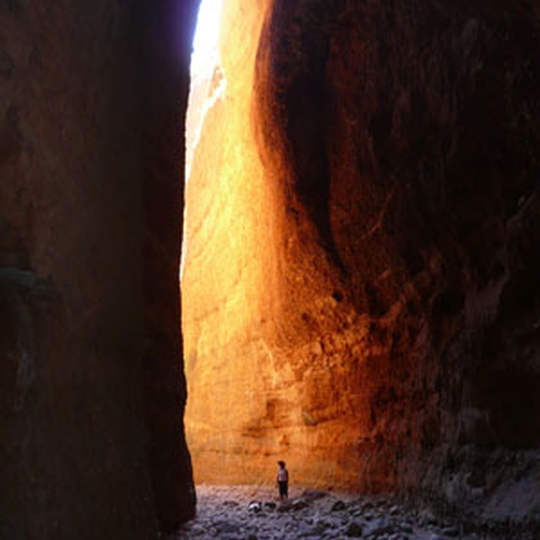 The 18-day outback expedition will be led by experienced, Eco-Certified Guide, Jeremy Perks, a Director of Global Gypsies and his partner, Jan Barrie.
Bring your own (or a hired) 4WD vehicle, vehicle-mounted UHF two-way radio, camping equipment or robust 4WD camper-trailer (sorry, no caravans). We will provide a Pre-Departure Kit and hold a 'virtual' Pre-Departure Workshop in advance; we'll also cover campsite fees, park entry fees, guided walks & drives, share heaps of information & treat you to Welcome & Farewell Dinners.
We've spent a lot of time in the Kimberley region over the years & can't wait to get back – and we'd love to have you with us! Numbers are strictly limited & this tour will fill quickly – book early to avoid disappointment!
Other Notes:
Prices of "tag-along-tours" are based on clients driving their own 4WD vehicle - hire 4WD vehicles can be arranged at special rates. Prices do not include air fare, hotel accommodation, hire vehicles, food, fuel, alcoholic beverages, or expenses of a personal nature. Please refer to Terms & Conditions before booking any Global Gypsies safari. Travel insurance is recommended on all tours.
Disclaimer:
A safari operated or coordinated by Global Gypsies or its agents or affiliates is a challenging adventure frequently operating in remote areas. While every care and precaution is taken, the company and its affiliates and agents are not liable for the sickness or injury of any participant or for any medical services that may be required. Participants recognise that 'tag-along-tours' are self-drive, self-sufficient overland experiences and Global Gypsies and its agents and affiliates do not accept responsibility for any vehicle damage or recovery. A non-refundable 10% deposit is required to confirm your place. Any legal conflict which may arise shall be resolved in the legal jurisdiction of WA in accordance with those laws. Please request a copy of our full Terms & Conditions before booking your safari. Travel insurance is recommended for all tours. Prices quoted are in Australian Dollars. The company does not book or sell airfares.