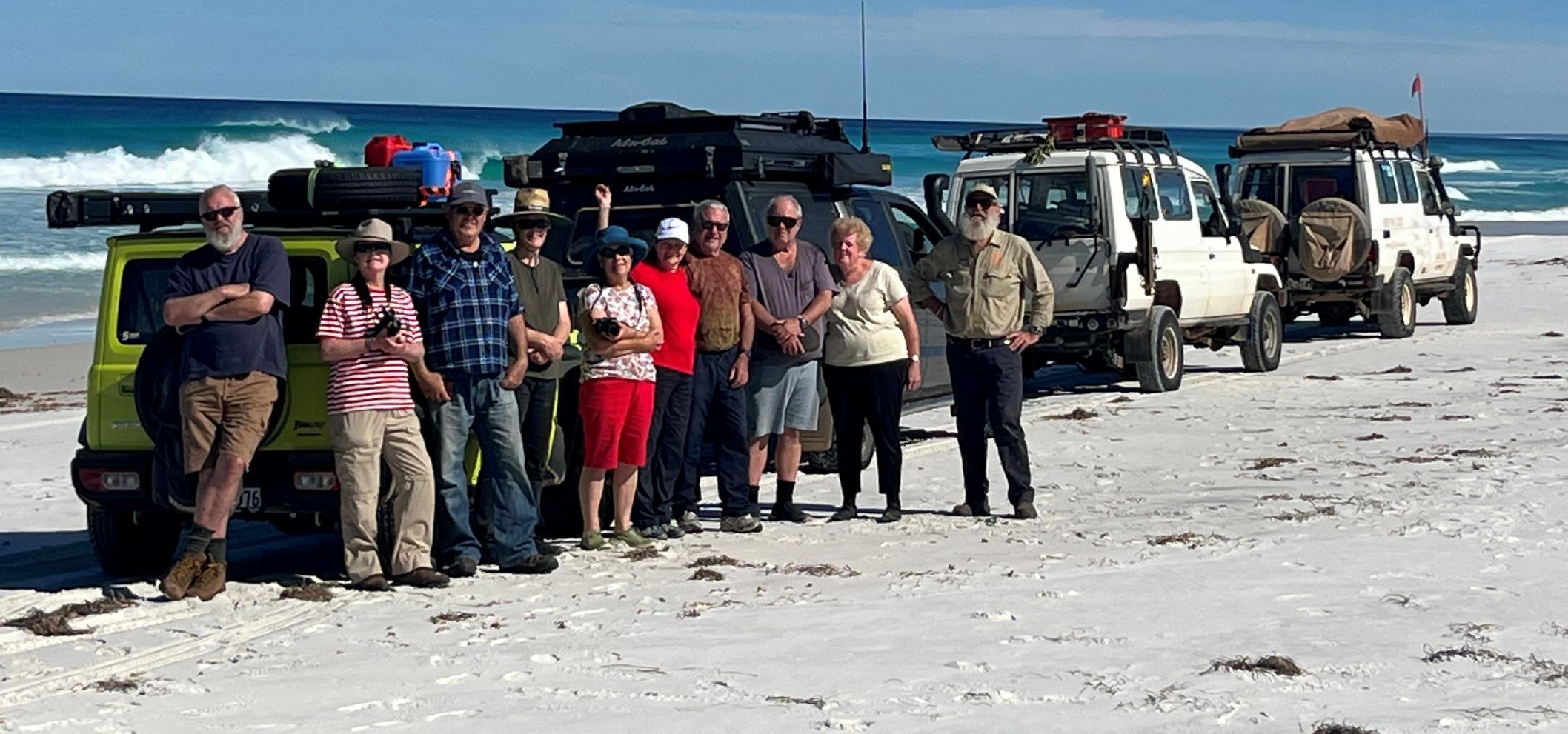 THE TALE OF THE INFAMOUS GYPSY BUSHRANGERS
& THE BRILLIANT BIGHT SAFARI
In the history books of the wild South Coast,
One gang of bushrangers is feared the most,
Rebellious renegades, each & every one,
Let not their misdeeds go unsung.
The "Gypsy Gang" travelled in a tight pack,
Mighty engines roaring through gnarly tracks.
They challenged each obstacle, broke every rule,
An insatiable thirst for adventure, food & fuel.
The Bonnie & Clyde of this dangerous band,
Were the 'Gruesome Twosome', Jeremy & Jan;
There were the 'Mad MacLeans', 'Rapscallion Ross',
'Big Fish Jan' & 'Tough Tony' (assistant trail boss);
'Angry Annie', 'Gerry the Raptor Queen',
And The Fixers, the infamous 'Holland Team'.
On cold nights in the bush, with degrees three to four,
Grizzly deeds took place with a spade & chain saw.
If a road was closed, this gang just drove through it.
If a sign said "No Camping", they said "Stuff it! Let's do it!"
From Kalgoorlie to Albany, they terrorized the towns,
Commandeered all the hotel rooms, not for them beds on wet ground.
They charged along beaches, powered through woodlands, up hills,
Shot anything that moved! - on video or stills.
In good or bad weather, they knew Nature was king,
If vehicles needed repairing, hah! They used band-aids & string!
Moonshine was guzzled, a damper made,
Butterscotch pizza was hacked with a blade.
Stops at haunted homesteads & graves on a hill,
Wood warriors, pyromaniacs, anglers with no fish to kill.
Wildlife was sparse, but one night was uncanny!
Dave screamed out like Lindy, "A dingo's got my jammies!"
Strange events unfolded, crimes went unsolved,
Skylab, a Jiminy left in a pothole;
At Balbinia - lycra shorts & a stray dunny lid;
Are the two things connected? Has a body been hid?
The gang's "U-Turn Caper" is notorious stuff,
Even for this mob, one track proved too tough.
Canyon-like gullies, lakes instead of dry ground,
"Listen up!" growled the leader, "We're turning around!"
They retraced their steps through washouts, chicken tracks,
With storm clouds & nightfall chasing them back.
Then just before dark, near Mt Ragged's peak -
An emergency bush camp, campfire & sleep.
They barnstormed Esperance & Bremer, home of orcas, great whites,
Turned tall tales to legends by moon & firelight.
Their legacy grew as they ransacked the coast
In search of flora, fauna & the occasional ghost,
Exploring barren mountains & quiet bays, making the most of every day.
This brazen gang rode together for just a short while,
But remember them well – think of them & smile.
When home safe in your beds & you nod off at night,
Relive their adventures on the Brilliant Bight.
Jan Barrie
Bremer Bay
May 2022